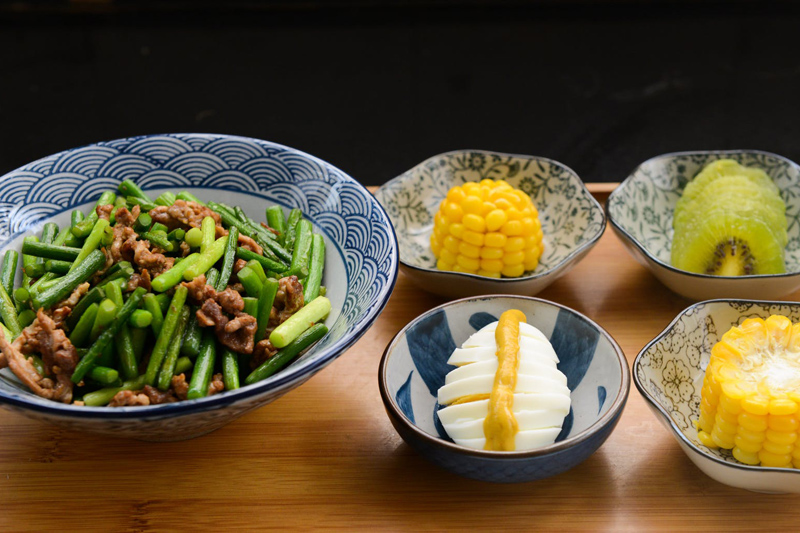 Popcorn chicken is an Asian restaurant favorite. The sweet potato starch along with the double frying process is what gives these little chicken bites their crunch. Make sure to use the starch and not the flour. The starch can usually be found in most Asian grocery stores, however if you can't find it you can use regular potato starch in place of it, though it will slightly change the texture of the chicken.
1 lb boneless skinless chicken breasts (about 2 breasts)
2 cloves of garlic
1 tsp soy sauce
1/2 tsp white pepper
1 tsp salt
1/3 cup of flour
1/4 tsp five spice powder
1/4 tsp baking powder
1/2 cup sweet potato starch
10 to 15 thai basil leaves
Peanut oil or vegetable oil for frying
Remove any excess fat from the chicken breasts and then dice them into 1/2 inch pieces and place them in a large bowl.


Next peel and mince the garlic and add it to the chicken.


Then add the soy sauce, white pepper and just 1/2 teaspoon of the salt and mix it into the chicken thoroughly. Let this sit while preparing the other ingredients.


In another small bowl mix together the remaining 1/2 teaspoon of salt with the flour, five spice powder, and baking powder. Once they are mixed add 1/4 cup of water mixing it in a little at a time, stirring to create a smooth mixture. Then add this mixture to the chicken.


Next place the sweet potato starch in a bowl. Then coat each piece of chicken by dipping it in the starch. The easiest way to do this is to coat a few pieces at a time and then place them on a clean plate.


Once all the chicken pieces are coated with the starch, let them sit while preparing the oil.


Fill a large wok or pot half way with oil and heat it on high until it reaches 350 F. It's best to use a cooking thermometer for this because the chicken could burn if the oil is too hot and not cook through if it is not hot enough. Try to keep a constant temperature through out the cooking process.


Once the oil reaches 350 F add the chicken pieces one at a time and let them cook for 2 to 3 minutes, or until golden in color. Depending on the size of your pot, you may have to cook these pieces in batches. Remember we don't want to over crowd the pot or the temperature of the oil will drop too much and not cook the chicken correctly.


When the chicken pieces turn color, remove them with a slotted spoon and place them on a plate lined with paper towels.


Once all of the chicken pieces are fried, heat the oil back up to 350 F and fry them a second time for 2 minutes, or until lightly browned. Then place them on another plate lined with paper towels to soak up the excess oil and sprinkle them with salt and white pepper to taste.


Then fry the basil leaves for 2 minutes and place them on a separate plate lined with paper towels to soak up any excess oil.


Then place the chicken on a serving dish tossing them with the basil leaves and enjoy! Makes 2 to 3 servings of popcorn chicken.


Related Articles
Editor's Picks Articles
Top Ten Articles
Previous Features
Site Map





Content copyright © 2019 by Lila Voo. All rights reserved.
This content was written by Lila Voo. If you wish to use this content in any manner, you need written permission. Contact Lila Voo for details.