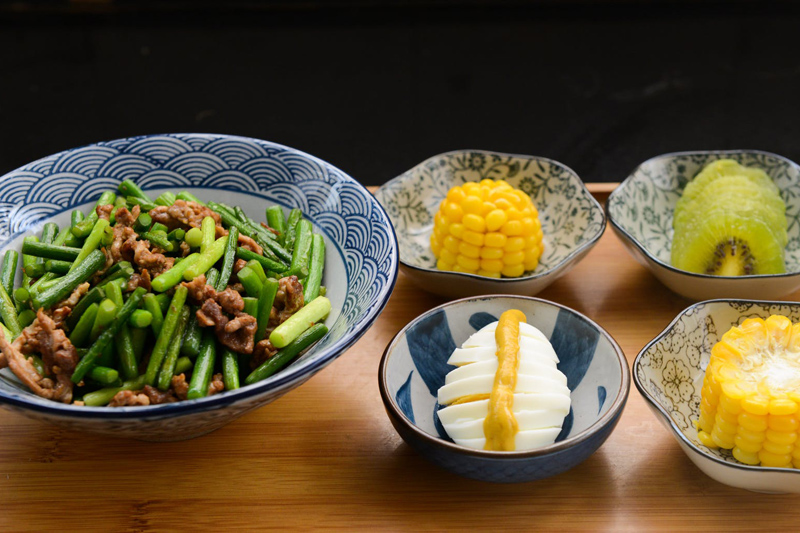 Zongzi or sticky rice wraps are delicious traditional Chinese snacks which are eaten during the Dragon boat festival. These delicious wraps are made with bamboo, banana, or pandan leaves wrapped around sticky sweet rice and filled with a variety of different ingredients. This recipe uses a mix of Chinese vegetarian mince meat and peanuts for an amazingly flavorful filling. Try this amazing vegetarian zongzi recipe and let me know what you think in the
Chinese food forum
. Enjoy!
To watch a video for these instructions click
here
3 cups glutinous rice (sweet rice – short grain)
1 package of frozen banana leaves –defrosted
3 tbsp soy sauce
2 tbsp sugar
1 tbsp salt
2 6½oz cans of Chinese vegetarian minced meat (companion brand works best in this recipe)
2/3 cup of peanuts
Rinse the rice thoroughly in a colander for about 5 minutes. Then place it in a bowl, cover it with room temperature water and let it soak for 3 hours.


While the rice soaks, prepare the other ingredients. Carefully rinse the banana leaves under cold running water and dry them thoroughly. Then cut off the yellow seam that is on the bottom of each leaf and discard. Cut each leaf into rectangles, about the size of a piece of paper. These leaves will be used to wrap our filling. This particular size will be used to wrap them into simple square packets, which is quite easy. If you prefer to wrap them into the traditional triangles you can cut the leaves into strips. If you prefer to wrap them into rolls, you can cut the leaves into long rectangles. Please refer to the video instructions for these different wrapped shapes.


Once the wrappers are cut and the rice has soaked, drain it thoroughly. Then add the soy sauce, sugar and salt, and stir to mix everything together.


Next, prepare the ingredients for the filling. In a large bowl mix together the 2 cans of vegetarian mince meat with the peanuts. Stir until this is thoroughly mixed.


Now it's time to wrap the zongzi. Set up a work area. Have a board or flat surface to work on, the banana leaves, the rice and the filling nearby. Also have a clean plate on which to place the finished zongzi.


Start by placing a banana leaf with the shorter end towards you. To the center add some of the rice. Use a slotted spoon to place the rice in the center so that no excess liquid gets onto the leaf.


Then add some of the filling mixture and place a little more rice on the top. Then wrap it up as you would a package. Fold in the two sides. Make a corner on each end and fold them up to the center. Then using string, again tie it as if you would a package. Then place it on a plate and continue wrapping the zongzi. There are several different ways of wrapping this dumpling, however in my opinion this is the easiest. Refer to the video instructions to see different ways of wrapping.


Once they are all wrapped, bring a large pot of water to a boil.


When it boils add the zongzi. Then cover and turn the heat down to low keeping them at a simmer. Let them cook for 1 hour.


After an hour carefully remove them with a slotted spoon making sure to drain off all of the excess water. Then place them on a plate and serve. Makes 10 to 15 zongzi depending on how you wrap them.


Related Articles
Editor's Picks Articles
Top Ten Articles
Previous Features
Site Map





Content copyright © 2023 by Lila Voo. All rights reserved.
This content was written by Lila Voo. If you wish to use this content in any manner, you need written permission. Contact Lila Voo for details.