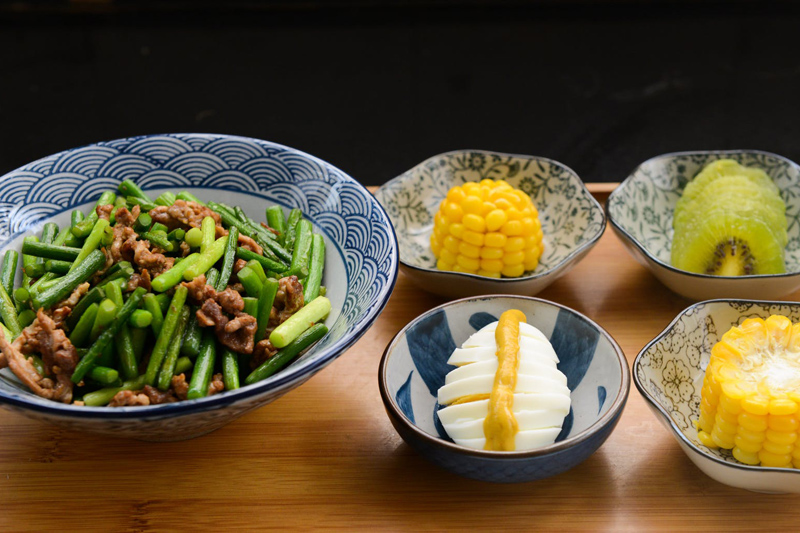 Popular Chinese appetizers from my Chinese recipes such as egg rolls and chicken wings. If you are searching for spare ribs, dumplings, and buns please see the dim sum section.
Baked Wonton Cups - Pork Filled

Baked wonton cups filled with a mix of ground pork.
Bang Bang Shrimp Recipe

A famous restaurant favorite.
Beef Lettuce Wraps Recipe

These Chinese lettuce wraps use bib lettuce leaves which are filled with a mix of ground beef, mushrooms, and water chestnuts served alongside a delicious dipping sauce.
Chicken Wings Recipe - Crispy Garlic Wings

Marinated and deep fried with a crispy garlic coating.
Chicken Wings Recipe - Sweet and Spicy

Deep fried wings tossed in a delicious sweet and spicy sauce.
Crab Rangoon Recipe

Traditional crab rangoon with cream cheese and crab filling.
Drunken Chicken Recipe

Cooked white meat chicken soaked in wine and served cold.
Egg Roll Recipe - Pork and Cabbage

Traditional fried egg rolls with a pork and cabbage filling.
Egg Roll Recipe - Shrimp

Traditional shrimp filled egg rolls.
Egg Rolls Recipe - Baked

Chicken and vegetables wrapped in a light and flaky phyllo crust.
Fried Beef and Cheese Wontons Recipe

Crisp wontons filled with beef and cheese make a great appetizer for any get together
Ginger Chicken Potstickers Recipe

These ginger chicken potstickers make the perfect lunch or afternoon snack. Filled with a mix of ground chicken, fresh ginger and flavorful cabbage, these potstickers are sure to please a crowd.
Lettuce Wraps Recipe - Chicken

Delicious chopped chicken, water chestnuts and green onion tossed and eaten in fresh lettuce leaves.
Lettuce Wraps Recipe -Restaurant Style Chicken

Similar to the lettuce wraps served at PF Changs.
Pork and Shrimp Spring Roll Recipe

Spring rolls filled with ground pork, chopped shrimp, and seasoned vegetables make the perfect light lunch.
Pot Sticker Recipe - Pork

Pan fried pork filled pot stickers.
Ribs Recipe - Chinese BBQ

Boiled, then broiled with a Chinese barebecue basting sauce.
Rumaki Recipe

White meat chicken and water chestnuts wrapped with bacon and baked until crisp.
Shrimp Chips Recipe

Lighter than potatoe chips, these crispy chips are shrimp flavored and brightly colored.
Shrimp Filled Pot Stickers Recipe

These shrimp filled pot stickers, also known as jiaozi, are filled with fresh chopped shrimp, cabbage, shiitakes, and green onion and pan-fried till golden brown.
Spring Roll Recipe - Five Spice Shrimp

Five spice flavored shrimp and vegetables deep fried spring rolls.
Stuffed Mini Sweet Peppers Recipe

Mini sweet peppers stuffed with an Asian inspired mix of ground beef and rice.
Stuffed Mushrooms Recipe

Asian inspired ground beef filled mushroom caps.
Sweet and Sour Chicken Wonton Cups

These sweet and sour chicken wonton cups are quick and easy to make and can be made the day before which makes them perfect for large parties.
Sweet and Sour Meatballs Recipe

Mini Meatballs tossed in sweet and sour sauce and served with toothpicks.
Vegetable Spring Roll Recipe

Crispy fried spring rolls filled with a mix of cabbage, carrots, celery, red pepper, and onion are sure to please a crowd.
Wontons with Soy Ginger Sauce Recipe

Pork wontons served with a soy ginger dipping sauce on the side.
You Tiao Treats – Party Recipe

Slices of you tiao, which are Chinese crullers, are stacked with melted layers of cheddar cheese and then placed into mini muffin cups. These bite sized treats are perfect for a party!
Editor's Picks Articles
Top Ten Articles
Previous Features
Site Map
Content copyright © 2018 by . All rights reserved.
This content was written by . If you wish to use this content in any manner, you need written permission.
Contact Lila Voo for details.